A few questions to Michelle Adams
Michelle Adams har skrivit den finfina spänningsromanen Min Syster – en otäck historia om psykopati och längtan att få höra till. Hon har varit vänlig nog att ta sig tid att svara på några frågor! Here it goes!
Q: I really loved My Sister – it is always nice to have a really bad villain to hate and love. But the things I liked best is that Elle seems to be really wicked but there might be reasons why…nothing is black or white. Is that what you intended with your story?
 A:  Yes, I always intended to leave things a little unclear. I think that rarely are things in life simple, and it's not often where you can claim to have really good or bad guys; we all live on a spectrum. I hope people find a degree of sympathy with Elle, even of you detest what she has done.
Q: The one I found most evil was Irinas boyfriend. Is that what you think, too?  
A: Antonio is a real shit. He is probably the most unlikeable person for me in the whole novel. I like his character because he was a lot of fun to write, but if he was my boyfriend I'd want to kill him.
Q: I have found out that you´re really into horror. Is that maybe something you will write about in the future?
 A: I am into horror! I love it! I heard once that adrenaline junkies like horror and I used to be a bit like that. I was introduced to horror at a young age when I used to get up on my own to watch old black and white movies. There was a show in the UK that did film reviews on a Saturday and I remember seeing a clip from Nightmare on Elm Street and just being  so amazed that it scared me so much.
Q: And finally – which writers influence you (or even just amuse you)?
A: I love Stephen King, but I don't know if it's something I'd ever write. At the moment it doesn't draw me, but never say never
 Thanks to Michelle for taking the time! And I can really recommend My Sister/Min Syster – en riktigt otäck historia med en del fina plot twists!
Den 12 juli kommer uppföljaren, Between The Lies, ut och den ska jag läsa!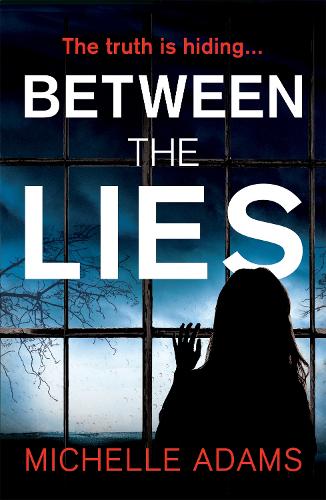 Såhär står det om boken på Amazon…
What would you do if you woke up and didn't know who you were?
Chloe Daniels regains consciousness in a hospital with no memory of how she got there.
She doesn't recognise the strangers who call themselves family. She can't even remember her own name.
What if your past remained a mystery?
As she slowly recovers, her parents and sister begin to share details of her life.
The successful career. The seaside home. The near-fatal car crash.
But Chloe senses they're keeping dark secrets – and her determination to uncover the truth will have devastating consequences.
What if the people you should be able trust are lying to you?
Det lät väldigt spännande och mouth watering…jag hoppas att Lind & Co översätter även den!
Ett svar till "A few questions to Michelle Adams"
[…] Syster (recension här), och på det sättet fick jag tillfälle att fråga henne några frågor (miniintervju här). Bra boktips eller annat skoj kan man ju också reposta. Så Instagram är ett bra komplement […]